How to Graduate from College the Easy Way … and Other Popular Fairy Tales
Why college success in the real world is about hard work and knowing yourself. A practical, real-life, totally new approach to living happily ever after.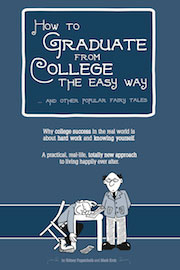 Overview

: The Keys to the Kingdom

Chapter One

: Through the Wardrobe: Making the Transition to College

Chapter Two

: Who's Writing Your Fairy Tale? (Locus of control, creating your own future)

Chapter Three

: Know What You Want BEFORE You Get Your Three Wishes (Goal setting and motivation)

Chapter Four

: Butcher, Baker or Candlestick Maker: College & Your Career

Chapter Five

: Don't wait for Midnight: Time Management

Chapter Six

: Excelling in The Classroom Without Being Grumpy, Sleepy or Dopey (Study skills)

Chapter Seven

: Mirror, Mirror: the DISC assessment (Communication skills)

Chapter Eight

: Kissing Frogs: Getting Along Using the PLSI (Temperament and personality)

Chapter Nine

: Managing Your Pot of Gold (Financial skills)

Chapter Ten

: Knights in Shining Armor: Getting Help
Download Sample pages
(10 pages, 208 KB)
View the Features Matrix to see how the book fits in with the knowledge modules, online tools and assessments.