Making Your Mark
Making Your Mark has been used by over 1,000,000 students to get through college at over 1,500 institutions across North America. Although the text is not directly tied to the online system, the concise style of this book is an alternative to the more comprehensive How to Graduate from College the Easy Way … and Other Popular Fairy Tales for use in shorter courses.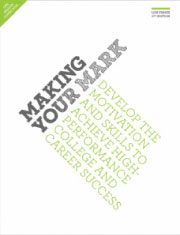 9th edition

This best-selling college success book is now in its 9th edition, and contains revised student motivation content, more interactive retention exercises, and a comprehensive collection of academic success skills.

Inside Making Your Mark

Students use the ideas outlined in Making Your Mark to improve their time management and notetaking skills, to study more efficiently, and to better cope with college life.
From Making Your Mark introduction:
"The skills outlined in Making Your Mark will help you graduate from college. But more important, these skills will see you through your entire career. It's kind of like a 2-for-1 deal. The college success skills you develop are the same employment skills you'll need for your career: good work habits, efficient time management, and an organized system for getting your work done at a high standard. If you approach your college years as professional development for your career, you'll be well prepared for the workplace, and you'll come as close as it gets to guaranteeing yourself a good job upon graduation."
Interactive Exercises
The interactive exercises in Making Your Mark target:
Developing and strengthening student motivation
High performance habits and change
Relationship building
Academic skill building
The exercises in Making Your Mark encourage students to reflect upon what motivates them and help them see how they can preserve that motivation throughout their college years. Students also examine their past work habits and determine how they can improve their self-management skills, and will understand how they can transfer college success skills to a career setting.
Download Sample pages
(7 pages, 100 KB)
Learn more about our other texts: How to Graduate from College the Easy Way … and Other Popular Fairy Tales and the Study Skills Guide.